By Deanna Kirk — Corsicana Daily Sun
November 16, 2018
A project started in July 2017 to memorialize a Corsicana Hometown Hero has reached the end of its fundraising phrase.
The Brent Thompson Memorial Bronze committee, headed by Joshua Tackett, Navarro County District Clerk and Sharla Allen, City of Corsicana Parks and Recreation Director, began fundraising efforts immediately.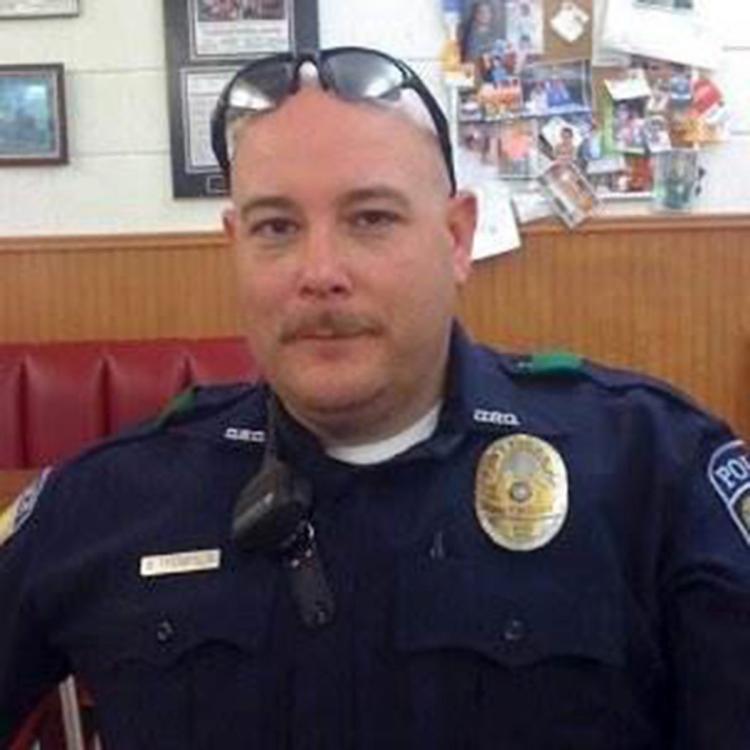 "The first donation to the Officer Brent Thompson bronze project was received in May of 2017, and just 18 short months later, the planned goal of $65,000 is met," Allen said. "The Committee is thrilled that this life-sized shadow of Brent, along with two children, will be an artistic addition to the sculptures already in the downtown area."
Following the passing of Navarro County District Attorney Lowell Thompson on October 24, 2018, Assistant District Attorney Will Thompson took up a collection for a floral tribute. "The suggestion was made that perhaps our office collection could contribute to the Brent statue, and while flowers would be gone in a week or so, that would be something that would last 100 years," Thompson said. "We still sent flowers from the DA's office to Lowell's service, but we are thrilled to be able to help get the Bronze project effort to its goal."
It was decided the bronze figure of Officer Brent Thompson, who was killed in the ambush on police in Dallas July 7, 2016, would depict him in his officer's uniform, writing a "ticket" to two young children. The male child is being made in the likeness of Brent's son, William, who passed away in November 2017. "The team has worked tirelessly along with Brent's dad Sam and late brother Lowell in memorializing our fallen hero, reminding us of the dangerous job he had and that no call is routine," she said. "Artist Payne Lara was commissioned in October 2017 for bronze casting."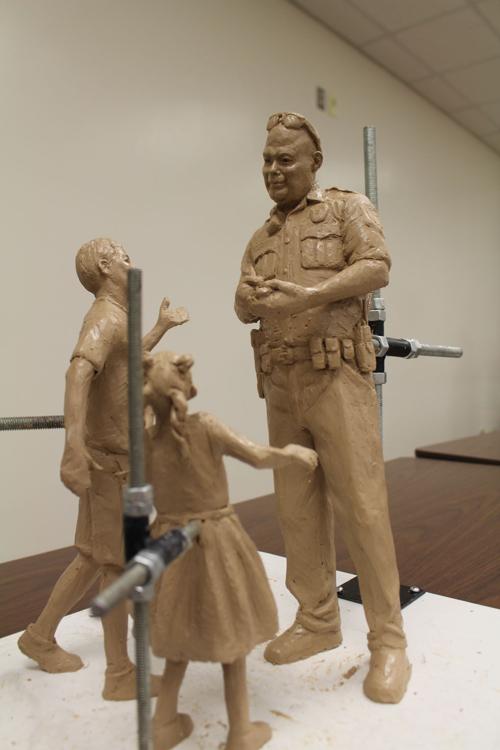 Allen said the piece will be placed on the southeast corner of 201 S. Beaton Street in Corsicana. "Funds for this statue were raised through both donations and grants from local individuals, friends, businesses, and organizations, so in spirit, their tribute to Brent," Allen said. "The last contribution came from the Navarro County DA's office finalizing the project goal."
"We've been working on this a long time," said Tackett. "The District Attorney's office gave the final few thousand dollars, and got us to our goal. The Committee is so grateful, and we also appreciate Lowell's work family contributing to this project."
Tackett said there is now enough for the statues themselves, the plaques and an unveiling ceremony, a total $65,000. "It's been a lot of work, and been a blessing, something I will remember forever," Tackett said. "It brought me closer to friends in the community, sharing this story to make sure it lives on forever."
The unveiling dedication ceremony is expected to be held in the summer of 2019.