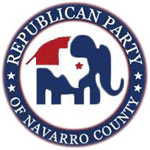 If you are interested in running for a Navarro County office, the filing period is from Saturday November 9 to Monday December 9 at 6:00 PM to file for office in the March 3, 2020 Republican Primary Election.  You can request a filing form by E-mailing info@navgop.com and it will be E-mailed to you.
Before any preliminary expenses, file your Appointment of Treasurer form with the Elections Administrator.
The Republican Party Of Navarro County will host a BBQ style lunch for those candidates filing for office at 11:00 AM to 1:00 PM on Saturday November 9, 2019 at Republican Headquarters,  111-B West Third Avenue, in downtown Corsicana.   Please RSVP for the luncheon.  Notary Publics will be on-site for any forms requiring notarization.
Those not wishing to file on Saturday November 9 can be done by appointment with the RPNC.