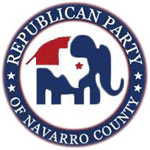 If you are interested in running for a Republican Party of Navarro County Precinct Chair position OR would like to continue serving, the filing period is from Tuesday September 10 to Monday December 9 at 6:00 PM to file for office in the March 3, 2020 Republican Primary Election.  You can request a filing form by E-mailing info@navgop.com and it will be E-mailed to you.
Current Precinct Chair vacancies are 105, 201, 202, 204, 205. 206,  301, 304, and 306.
Precinct Chairs are vital to the overall structure of each county Republican Party!  Becoming a Precinct Chair is more than a title within the County Party.  It is a vital position which identifies, registers, communicates, and turns-out voters,  The Precinct Chair is a member of the County Executive Committee to vote upon local party issues.
If you are one of our many great Republicans across Navarro County and would like to be involved:  WE NEED YOU!!!