County Convention – Navarro County RPNC
June 6 @ 10:00 am

-

2:00 pm
Navarro County Republicans and Friends,
The Republican Party Of Navarro County had convened and adjourned its County Convention meeting on Saturday March 21, 2020, due to the COVID-19 coronavirus national emergency pandemic, to reconvene at a later date and location, at the call of the temporary chair. As a delegate selected from the Precinct Convention, this move was strictly to protect your health with transparency. This move was not intended to disenfranchise any delegate.
Per the Republican County Chair Eric R. Meyers, the RPNC County Convention will reconvene on Saturday June 6, 2020 at 10:00 AM in the District Courtroom, Second Floor, Navarro County Courthouse, 300 West Third Avenue, in Corsicana. The meeting will probably last 3-4 hours. Check-in opens at 9:30am.
We are reconvening the Navarro County Republican Convention meeting as set by an emergency declaration on Saturday, March 21st as stated below by the Temporary Convention Chairman:
"It being 10 AM , I call to order the Convention for Navarro County. Due to an extreme emergency, I am declaring this meeting adjourned to reconvene at a time and date to be announced. The details of the location will be posted on the County Party website at least seven days prior to convention reconvening. The information will also be sent to the email addresses of all delegates who provided it on their precinct convention minutes or provide it to me today."
Please help us notify everyone. If you were in attendance and nominated these delegates, the convention committee would ask that you assist in the full representation at the convention by notifying them. A list of the delegates is listed below, however if you need additional information please contact Steven Jessup at stevenjessup20@gmail.com .
We will be following COVID-19 State and County guidelines for capacity percentage and social distancing. RSVP ATTENDANCE REQUESTED for convention seating as we value your health and safety. Please RSVP to Steven Jessup at stevenjessup20@gmail.com no later than 5:00 PM on Friday, June 5th, 2020.
Anyone may attend the convention as a guest. Only the qualified individuals who were elected at precinct conventions held in March may be delegates and alternates at the county convention.
Casual Dress is the attire for convention.
On the agenda for the convention meeting will be the following:
• Permanent Organization, Rules and Credentials Reports
• Nominations of delegate and alternates for State Convention
• Report of Resolutions Committee
• Adoptions of Resolutions to State Convention
In accordance to CDC guidelines, we will be seating delegates at least six feet apart. Personal Protective Equipment, such as facemasks, are recommended, but not required.
The purpose of the County Convention is to pass resolutions to the Texas Republican Platform and nominate delegates / alternates to the Republican Party Of Texas state convention.
Navarro County will have 21 Delegates to be seated https://docs.google.com/spreadsheets/d/1EfzaebPYZQsO2tHAZlVd_SvNbnMTTRB-ojsKem_WLW8/edit#gid=967681352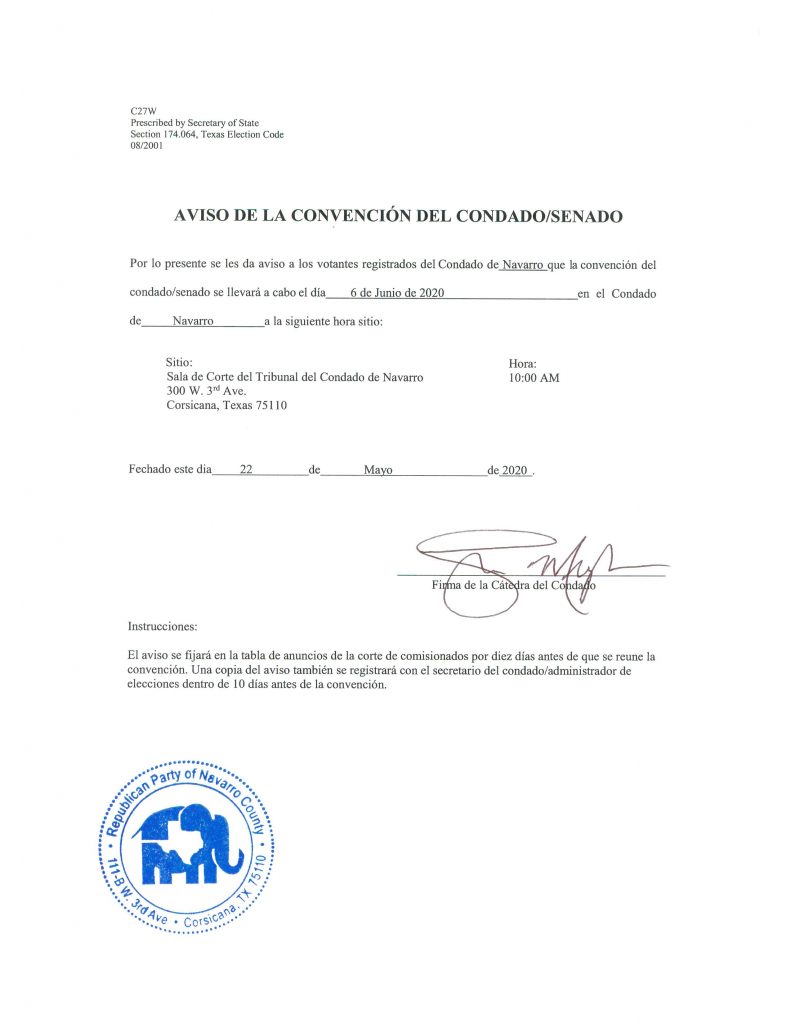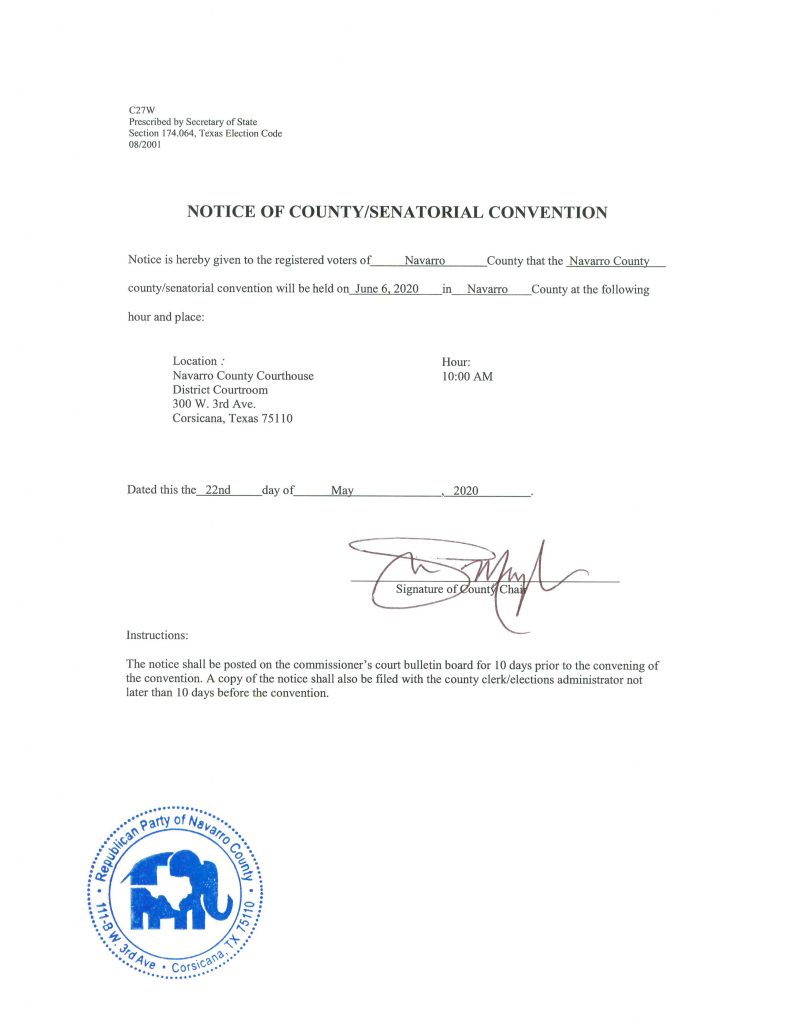 Rule No. 29 – County or Senatorial District Convention Committees
b) Prior to each County or Senatorial District Convention, the Temporary Chairman shall appoint the following committees and name the chairmen and members thereof before the temporary committees convene, provided that all members shall be delegates, and if the convention has more than fifty (50) delegates each such committee shall be composed of at least five (5) and not more than fifteen (15) delegates. The list of committee members shall be published in a manner accessible to delegates and once published shall not increase in number unless it falls below the minimum in which case it shall be brought back to no more than the minimum. The committees and their duties shall be as follows:
a. Credentials: This committee shall hear any contest concerning delegates and shall recommend the Permanent Roll of the Convention. – KIMBERLY COBB, Appointed Chair
b. Rules: This committee shall recommend the Supplemental Rules for the Convention. – PATRICK PATTERSON, Appointed Chair
c. Permanent Organization: This committee shall recommend permanent officers of the convention from among the delegates present. – DAN LAYNE, Appointed Chair
d. Resolutions: This committee shall conduct preliminary deliberations for the purpose of making recommendations to the Permanent Resolutions Committee. STEVEN JESSUP, Appointed Chair
e. Nominations: This committee shall conduct preliminary deliberations for the purpose of making recommendations to the Permanent Nominations Committee. DAVID FOREMAN, Appointed Chair
The 2020 Texas State Republican Convention will be held July 16 – 18 in Houston at the George R. Brown Convention Center.
Thank you all and I look forward to seeing everyone on the 6th!
Eric R. Meyers, County Chair
Republican Party of Navarro County